Search and recovery on Bogeda Snow Mountain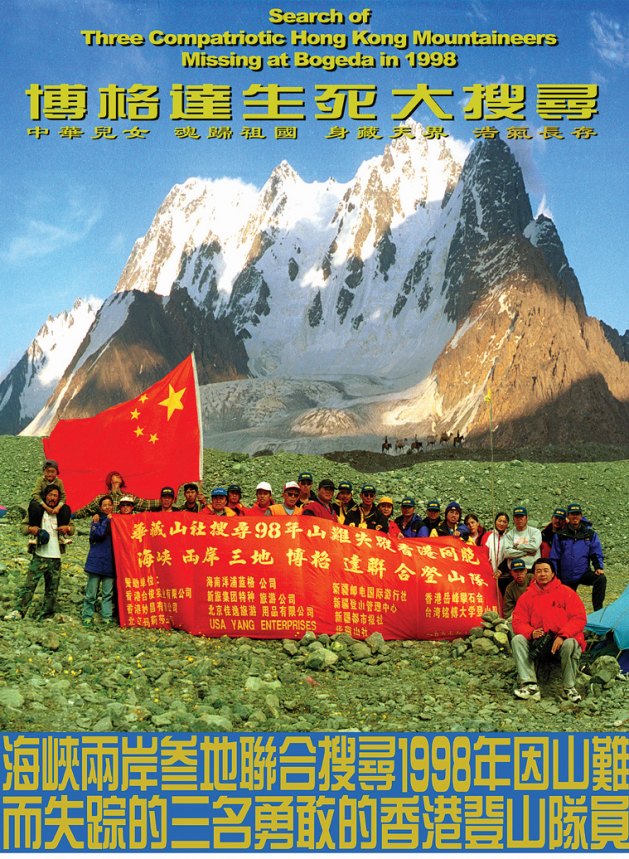 In the summer of 1998, three mountain climbers from Hong Kong lost contact with the base camp at an altitude of 5,445 meters near the peak of the Bogeda Snow Mountain in Xinjiang, China.  A search team together with 2 military helicopters went up the mountain for 11 days to look for the missing climbers, but the search and rescue efforts were unsuccessful.
In the summer of 1999, Thin & High organized a large search team consisting of volunteers from Mainland China, Hong Kong and Taiwan.

 

They overcame bureaucratic as well as physical obstacles and went on a 26-day expedition to search for the three missing mountaineers on Bogeda.

 

Although the team did not find the bodies of the climbers, they were able to recover the climbers' personal belongings, which provided sufficient proof of the climbers' demise for their families to claim death benefits.  Based on the evidence collected by the team, experts concluded that the three climbers fell off a cliff into the glacier together. 
Click here to watch a TV documentary of the search and recovery efforts.