Encouraging students at Tongxin Elementary School to overcome their predicament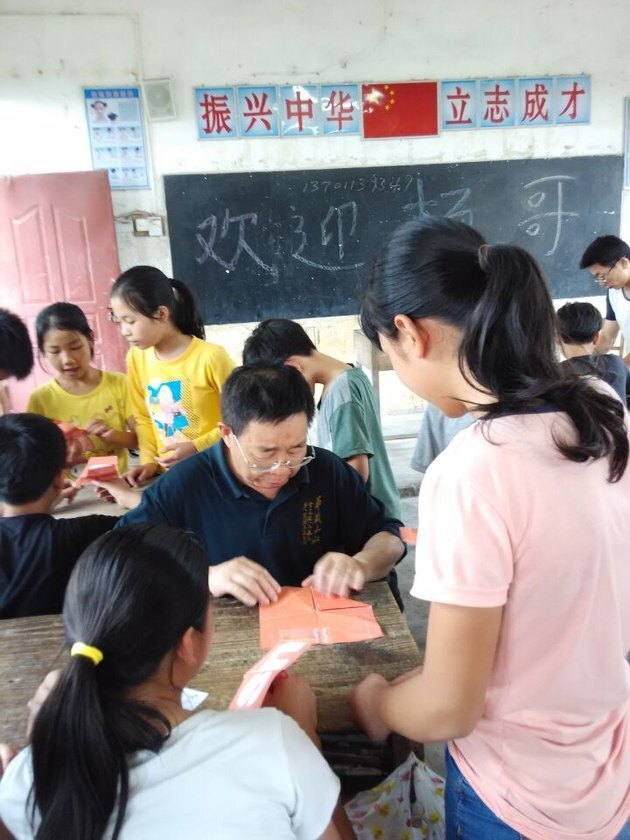 In May 2015, Thin & High volunteers paid a visit to Tongxin Elementary School in the town of Da An within the Guangxi Zhuang Autonomous Region, which is located in south central China, bordering Vietnam.
Most of the students come from farming villages nearby where their parents and forefathers have toiled the earth for generations.  Almost one-third of the students are what is commonly known as "left-behind children," whose parents have gone to work in large cities across China as migrant workers, leaving them behind to be looked after by grandparents and relatives; these children only get to see their parents once a year, during the Lunar New Year festival.  Due to the lack of attention and discipline at home, many of the students have developed behavioral problems and have fallen behind or lost interest in their studies.
During the visit, Thin & High volunteers promoted wholeness by addressing the social, emotional, psychological and physical well-being of the children, who were encouraged to look beyond their current circumstances while remaining positive; they were given guidance on how to undertake little steps that would help gradually improve their lives.  They were also given inspiring insights into issues beyond their scopes of experience; they were encouraged to set their goals high and strive to achieve them.  At the end of the visit, the children were each given a piece of paper to fold into the shape of a plane; they cheered as they sent the planes off from the second floor of the school building to symbolize the desire to let their dreams soar.
This visit was one of Thin & High's numerous attempts to touch the lives of individuals especially those with underprivileged and vulnerable backgrounds.  Thin & High believes that compassion and care will build confidence, motivate good behaviors and eventually transform lives as well as enable the fulfillment of human potentials. 
Shortly after the visit, Chen Rong, the sixth grade school teacher, informed Thin & High that she was pleasantly surprised by the positive changes she had noticed among her students: several of the most difficult and withdrawn have opened up, become friendly with their classmates and shown an interest to learn.  Click here to read the letters the students wrote to Thin & High founder Bernard Yang.
In March 2016, Chen Rong visited western Pennsylvania after attending the sixtieth session of the Commission on the Status of Women at the United Nations headquarters in New York.  Upon her return, Rong narrated to her students the stories of Flight 93 that crashed in Shanksville, Pennsylvania on September 11, 2011, its valiant passengers and the horrors of terrorism; she also recounted to her students the state of elementary school education in America's rural areas, including the option of home-schooling, which is almost non-existent in China, whether rural or urban areas.  Click here to read about the actions taken by the students after they learned of the Flight 93 tragedy, and click here to view the two sets of cross-stitch embroidery created by three of her students in 2018 as a token of friendship for two American girls living near the Thin & High headquarters in western Pennsylvania.  One of the aims of Thin & High is to inculcate in young Chinese, especially those living in rural areas, a wider vision, perspective and outlook of lives and events outside of China, especially the concepts of freedom and liberal education; this is partly to counter the strident nationalism and anti-American rhetoric that is commonly found in the Chinese educational curriculum.  In addition, it is hoped that the students will learn to make friends by taking the initiative of reaching out to those from different geographic, ethnic, cultural and religious backgrounds.  Click here to read Chen Rong's teaching experience at the rural school.